In commercial security for more than 25 years
CENTR GROUP is a purely Czech company with its origins dating back to 1993. Which means, we have been working in commercial security for more than 25 years. In 2005, we transformed into a joint-stock company and we are still growing. We are a leader in the field, and we are one of the top 5 commercial security companies in the Czech Republic.
We understand quality, modern technology, individual approach, and know how to be inconspicuous. We render professional services in guarding, technical security, cyber security, private investigations, reception services, VIP security and comprehensive facility management.
Today, more than 3,300 employees in the Czech Republic and Slovakia participate in the provision of our services. We have offices in Prague, Brno, Ostrava, České Budějovice, and Bratislava.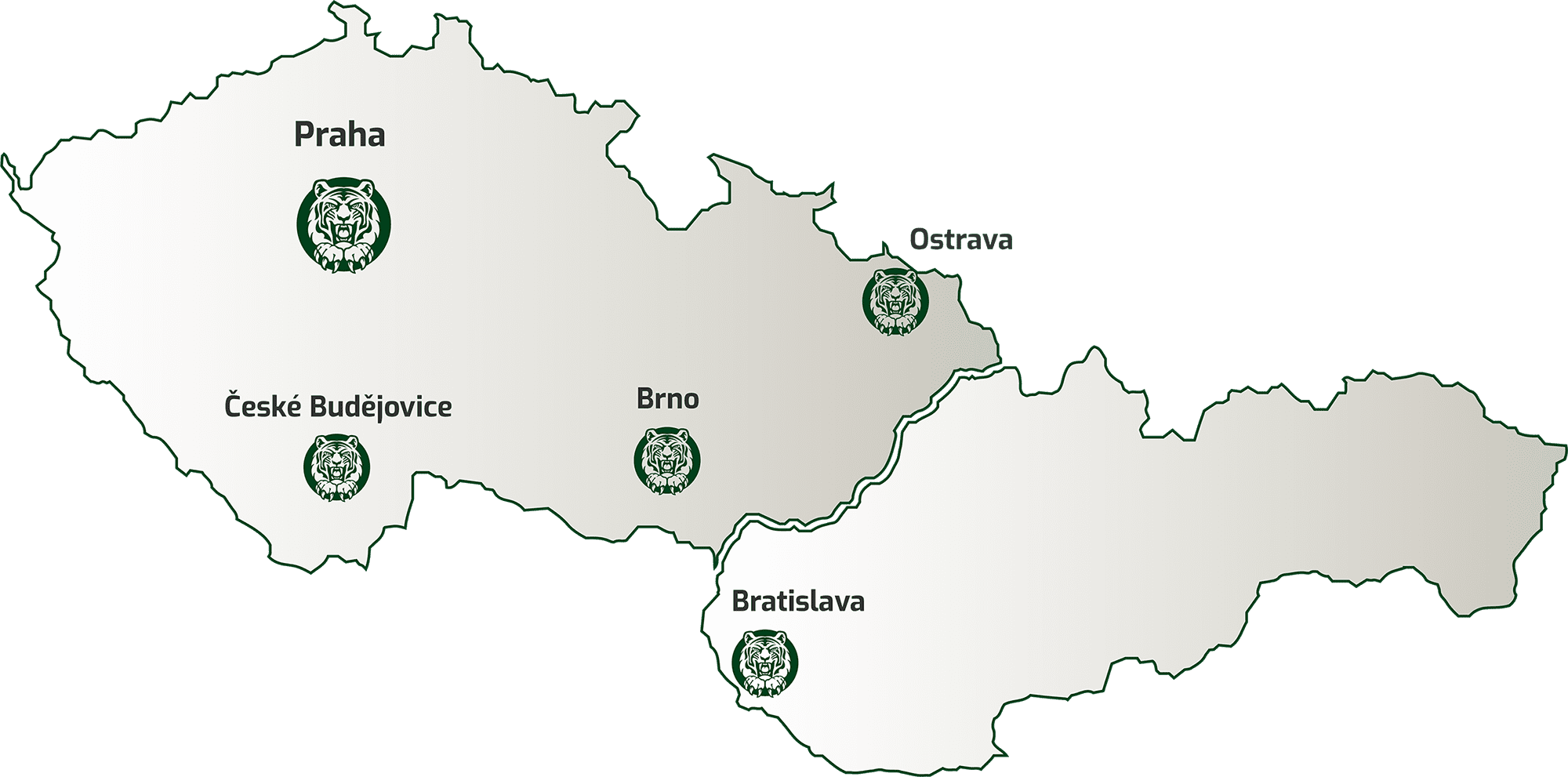 PRAHA
Na Příkopě 1096/19, MYSLBEK building
110 00 Praha 1
+420 731 628 740
office(at)centr.cz
BRNO
Křenová 40,
602 00 Brno
+420 734 172 943
brno(at)centr.cz
OSTRAVA
Nám. J. Gagarina 2046/1b,
710 00 Ostrava
+420 733 672 671
Tel.: +420 595 694 211
sekretariat(at)centr.cz
ČESKÉ BUDĚJOVICE
Resslova 1566/27
370 04 České Budějovice
+420 731 628 710
cb(at)centr.cz
BRATISLAVA
CENTR GROUP SR s.r.o.
Hviezdoslavovo nám. 25, 811 04 Bratislava
+421 914 328 481
centr(at)centr.sk
We at CENTR GROUP draw from our extensive track record gained over more than 25 years of operation in the commercial security market. Security and individual approach, this is our life philosophy.
All of our employees working together on rendering our services are capable, have excellent training, and their work is of the highest quality. Over the course of all activities, they follow the company's internal guidelines on implemented quality management, environmental protection, and information protection systems. As a result we provide you with the security and stability you need to focus on your business.
Certifications and clearance
ISO 9001 Quality Management System
ISO 14001 Environmental Management System
ISO 27001 Information Security Management System
ISO 45001 Occupational Health and Safety Management Systems
ISO 50001 Energy management system Certtificate
ČSN EN 50518 Certificate of Conformity for Monitoring and Alarm centers
OHSAS 18001 Occupational Health and Safety Management Systems
Security Clearance Certificate of the classification level "SECRET" issued by the National Security Authority








CENTR GROUP is, in fact, a structured group of companies with one common goal. And that is a satisfied customer. The high quality of services provided is the condition for customer satisfaction. This calls for expertise as well as for a professional approach. That is the reason why we are divided into several specialized companies.
CENTR GROUP – HOLDING s.r.o. functions as the umbrella for all of our companies. The Holding is not only a control center; first and foremost, it works as a thinking network. This network pervades all of our companies, which is why we provide our clients with comprehensive services of the highest quality.